31000123
http://lawyers.california-dui-lawyers.org/
Glenn Cole Casey
619-237-0384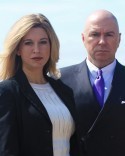 California DUI Lawyers Association
Glenn Cole Casey
Specialist Member
About Glenn Cole Casey
G. Cole Casey is a DUI trial lawyer based exclusively in San Diego, for cases being heard in San Diego Courts only. Mr. Casey has earned the reputation throughout the San Diego legal community as being the "man to see" for DUI cases. This reputation comes from his practice of relentlessly taking DUI cases to jury trial, which he still does week in and week out in the San Diego courts. He is well k... read more »
Biography
G. Cole Casey is a DUI trial lawyer based exclusively in San Diego, for cases being heard in San Diego Courts only. Mr. Casey has earned the reputation throughout the San Diego legal community as being the "man to see" for DUI cases. This reputation comes from his practice of relentlessly taking DUI cases to jury trial, which he still does week in and week out in the San Diego courts. He is well known by law enforcement as being a tough, but fair opponent in the courtroom, and is well respected both by local prosecutors and judges for his no-nonsense, hard nosed but professional approach to handling DUI cases. He has received more Not Guilty verdicts on DUI cases than any other attorney in San Diego County over the last 5 years, including Not Guilty verdicts on DUI cases with Blood Alcohol Levels greater than .20%. Such results are a product of Mr. Casey's dedication to this particular and highly specialized area of the law, including a thorough knowledge of police procedures and the scientific bases for both blood and breath testing. Mr. Casey is certified on the Intoxilyzer 8000, the breath testing machine currently in use by local San Diego law enforcement.
 
Mr. Casey received his Associate of Arts Degree from De Anza Junior College in Northern California, his Bachelor of Arts Degree from California State University in San Diego, and his Juris Doctor from Thomas Jefferson School of Law. Additionally, he is both a "Specialist Member" and the only San Diego attorney to sit on of the Board of Directors of the California DUI Lawyers Association. Mr. Casey is also a "Sustaining Member" of the National College for DUI Defense, and is the California State delegate to that organization. He has also completed training from the International Association of Chiefs of Police in Standardized Field Sobriety Testing, and is qualified as an Instructor in Standardized Field Sobriety Testing under the guidelines of the National Highway Traffic Safety Administration.  A frequent lecturer to other attorneys and law enforcement on DUI practices and procedures, Mr. Casey is a regular guest lecturer to other DUI attorneys throughout California and in multiple states across the country.
 
Mr. Casey's firm is NOT a one-man show.  Understanding that the majority of his clients are first offenders, and are nervous, or scared or just anxious about their case, Mr. Casey has placed sufficient personnel within his organization to ensure information is readily available and easily accessible for his clients. And, although Mr. Casey's firm is the largest exclusively DUI law firm in San Diego County, the firm maintains a very hands-on, and a very open door style policy with its clients. The firm has associate attorneys, licensed paralegals and a legal support staff unmatched anywhere within the community.
Practice Areas
| Area of Practice | % Focus |
| --- | --- |
| DUI / DWI / Drunk Driving | 100.00% |
Credentials
Bar Licenses
| State | Status | Year Acquired |
| --- | --- | --- |
| California | Member in Good Standing | 1996 |
Associations
| Position | Organization | Duration |
| --- | --- | --- |
| Specialist Member | California DUI Lawyers Association | present |
| Charter Member | DUI Defense Lawyers Association | present |
| Sustaining Member | National College for DUI Defense | present |